Welcome

to Plant It Mow It

Plant It Mow It offers a comprehensive selection of garden and lawn care solutions. No matter the condition of your yard, we will make sure it will look its very best when we leave. For the best results, trust your garden to an experienced team of professionals.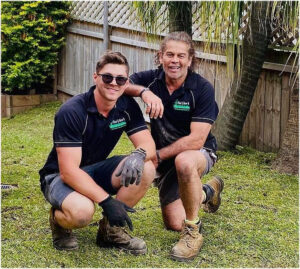 We take our garden and lawn care very seriously and are not satisfied unless you get the finest possible outcome. It's this commitment to excellence that has seen our customer base grow so quickly over the past few years.
All Garden Maintenance. Lawn Mowing, Tree Removal, Turfing, Rubbish Removal, Gutter Cleaning, Weeding & Poisoning, High Pressure Cleaning, Lawn Treatment, Hedging & Pruning, End of Lease Cleans.
Call Logan Granger today on 0421 706 48 to discuss your needs and let the Plant It Mow It team put a few more hours & a lot more spare time back into your day.
Why

choose Plant It Mow It?
Fantastic company. They have done a number of jobs for my business and are super reliable and always do a great job! Highly recommend.
Jordan Bulmer, McGrath Real Estate
The team at Plant It Mow It are honestly by far the best in the business!! From start to finish, they do their job and they do it well. They are always punctual and consistent with communication but you can't go past the quality of their service.
Adam Ralph
The guys from Plant It Mow It have been absolutely amazing to work with. They do a great job every time, they are professional and have great communication. Highly recommend.
Lauren Garrard
Super professional lawn service. Turn up when they're meant to - Booking was simple - Easy to deal with … Can't recommend enough!
Peggy Still
I use Plant It Mow It on a regular basis for my properties on the Central Coast for mowing, garden maintenance and landscaping. They are professional, reliable and affordable. Strongly recommend.
Adam McInnes
Every time I call Logan and his team, they always make time for my clients. Nothing is ever a problem. Logan his team are great. I highly recommend them & would never use anyone else.
Georgia Holland
I have been using Plant It Mow It for just over 6 years and cannot praise them enough. The great work Logan and his team do is worth more than 5 stars … I always get compliments on my garden since Logan and his team have maintained it.
Denis Isler
Love their no-nonsense approach to their work. Everyone knows what needs to be done, and they get into it.
Mike M